Clients (SEO / Digital Marketing / SEM / SMM)
Since 1997 when the Internet was just booming in India, we entered into the world of Internet technologies and web development. Nestsoft Technologies is a leading professional IT solution & service provider in Cochin, Kerala. From then till now, we have built much experience and skills in web/software development, web designing and digital marketing (SEO). This has helped me to develop top popular portals, software, well-known websites and top mobile apps first time in Kerala. Our motto is to fulfil the client's specific and customized needs beyond their expectation. We delivered high-quality services and international standard solutions for web design, portal development, ERP/CRM solutions, digital marketing / SEO, recruitment agency software, real estate portal etc.
Seo / Website for Camrin Films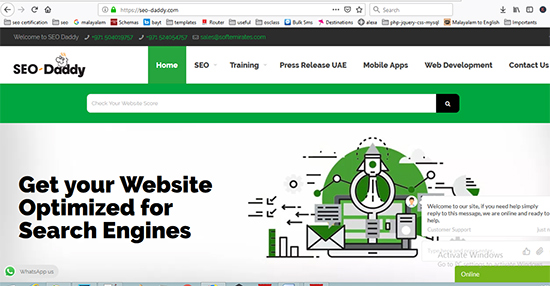 Seo / Website for Seo Daddy, Dubai
Clinicsoftware.ae - Medical Management Software, Dubai
Plotmall.com - Real Estate Portal
JobsinWorld.com - Job Portal
PJtreacy.com, UK
Tasaheelgroup CCTV, Oman
Our projects
Jobsinworld.com - Most popular job search engine in Kerala.
Plotmall.com - Largest leading online real estate web portal in Kerala.
Jobsviewer.com - Fastest growing job portal in Kerala with unique characteristics and traits.
Mallushares.com - Top website exclusively for all Malayalees to store images, videos, social media shares & posts.
Entejobs.com - Upcoming job portal in Kerala with unique features and quality.
Mphone.in - E-commerce & online shopping website for mPhone, Kerala's first mobile based company.
Magicfingerslady.com - Best hair salon and beauty clinic in Angamaly, Ernakulam Dist.
Jeevanjodi.com - Kerala's best matrimonial website providing online wedding service for Malayalees.
Keralarealestate.com - The first real estate website or property portal in Kerala.
Keralatravels.com - First Kerala tourism website. A collection of information about Kerala and a complete travel guide for a trip.
Jobsomega.com - First job portal based in Kerala which provides career opportunities.
All client concerns are checked through a closed circle process by us till they are settled and are fully satisfied. We are outsourcing our services & solutions to the clients from different parts of the world as our clients are from inside and outside India i.e. Oman, UAE, and all over the Middle East.
Hospital Management Software, Dubai
Our Client Projects
IndiaOptions.in - Erp/CRM for Computer Institute
InternationalAcademy.in - Erp/CRM for Study Abroad Consultancy
AppsonStore (appsonstore.com) - This is simply is an app directory for Android, iphone, Windows, Sympion etc
13 Airport Sites - chennaiairport.com, ahemedabadairport.com, bangaloreairport.com, cochinairport.com, goanairport.com, indoreairport.com, jaipurairport.com, calcuttaairport.com, kozhikodeairport.com, lucknowairport.com, nagpurairport.com, trichyairport.com, trivandrumairport.com
Camrin Films - Videography and Photography
Toursinindia.in - Biggest tourism portal in India
Marsafety.com - Nebosh Training
Outsourcing Services - Oman, UK, Dubai, USA & Ireland
Merrickflowershop.com - It is an online finest flower, floral arrangements and gifts shopping website/portal in Merrick, New York, USA.
Coldwellbanker.com - Real estate website project based in New York, USA.
Cityspacearchitects.com - Leading Architectural & Engineering design firm/consultancy based in Dubai.
Lucidaqar.com - Upcoming world class real estate web portal project in Oman for the clients from middle east countries.
Tasaheelgroup.org - Top hardware, IT service providers & CCTV manufacturing group in Muscat, Oman.
Clinicsoftware.ae - Hospital Management Software
Trustbusiness.net - IT Integrated Hardware, Software, Networking and Security solutions